My First Cante Alentejano Experience
In my opinion, Cante Alentejano, as a heritage and cultural experience, can only be enjoyed in its fullness and essence, live, in its natural habitat of excellence, the Alentejo.
I remember perfectly the first time I heard Cante Alentejano live.
It was in 1997, a few days after starting a new stage in my life, as a student at the University of Évora.
The typical bohemian life of university students, in Évora, is elevated by the very tradition and antiquity of this university, founded in the 16th century, being the second oldest university in Portugal.
On one of the usual academic "nights", in an old ritual that all university students in Évora go through, I was taken by my older classmates, together with my "freshman" colleagues, to the steps of the old cathedral in Évora.
There, under the guidance of the older students, we sang some Cante Alentejano. I realized that those songs were only known by Alentejo students and, being me and most of my colleagues from other regions of the country, we had difficulty in understanding the rhythm of the songs and, mainly, in framing our individual voices in a polyphonic chorus. Songs like the famous "Laurinda", "Menina estás à janela" or "Fui colher uma romã" were totally strange to us.
After a lot of trying, late into the night, I realized that the great secret of singing is not to seek the effort of tuning or vocal technique, but rather to find our group harmony and make our voices sing with one voice. It is the spirit of solidarity and a kind of collective transcendental feeling that prevails in this singing. Once reached, it becomes part of us and will connect, forever, all the people who shared that ecumenical moment.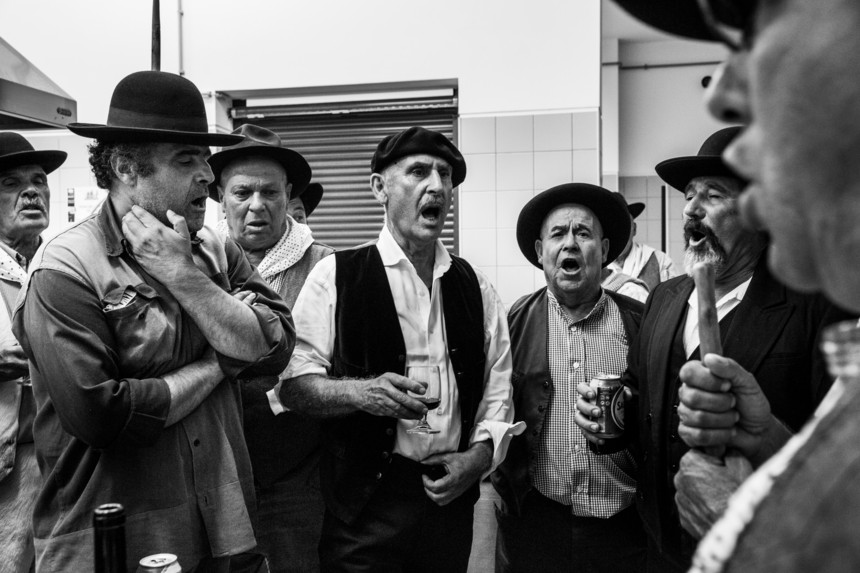 The world and time stop, bodies embrace and spirits rise to the sound of the voices that sacralize that moment, in an ode to fraternal love for life.
The Experiences Of Cante Alentejano That Most Impressed Me
I am fortunate to have had many authentic and special experiences with Cante Alentejano, which I will keep forever in my memory.
I remember the emotion that was the wedding of my great friends Ivo and Carla when they invited a group of Cante Alentejano to accompany, with religious songs, their wedding ceremony in a beautiful church in Arraiolos.
The song "Olha a noiva se vai linda!" has never been more meaningful to me:
"Friend, have you married
Already the noose caught you
God willing you always say
If I was right,
If it was better I am
Look the bride is going beautiful
On your engagement day
I too wanted to be married"
Another fantastic experience, lived with my parents, was in 2015, in Ovibeja, when 111 choral groups and more than 2300 organized voices, to which were added thousands of voices from the audience, performed in unison five Alentejo songs.
We were in the audience, singing along with thousands of people excited and proud to have recently seen their music recognized as intangible heritage of humanity.
The feeling was overwhelming, impossible to describe by the intensity experienced during those minutes.
I only know that I was unable to sing because I cried and sobbed profusely for the emotion that blew my whole soul. Never did the lyrics of the song "Alentejo, Alentejo" make so much sense to me…
"I am indebted to the Earth
The Earth owes me
The Earth pays me in life
I pay the Earth in dying"
With my parents and my sister, I also had the privilege of having a memorable Cante Alentejano experience, in an unforgettable lunch, at the headquarters of the Cantares de Évora Group, on the eve of popular saints, where the excellence of Alentejo gastronomy, accompanied by Alentejo wines, were the conduit of emotions sublimated by the voices of all of us.
"I don't know what I have in Évora
That of Évora I am remembering
Passing the Tagus River the waves
They are taking me"
Other unforgettable experiences were spent at lunches, in typical wineries, tasting Alentejo gastronomic treasures, drinking the ancient and typical wine fermented in clay amphoras, with my girlfriend and friends, accompanied by people and other customers who, spontaneously, sang the more diverse Alentejo songs and that, with the passage of time, more and more improvised singers were added to the celebration of the moment.
I enthusiastically recommend the typical "País das Uvas" restaurant in Vila de Frades, "Taberna do Arrufa" in Cuba and the "Adega Velha" in Mourão. Unmissable!
As the song "Vila de Frades" says:
"Vila de Frades no longer has abbots
But there are cellars that are cathedrals
Their reeds are sparkles
They drink and cry for more"
A totally unexpected encounter with Cante Alentejano was on the south bank of Lisbon, on the first anniversary of my cousin Jaime.
My cousins Tiago and Sílvia booked a room at a cultural association near Barreiro, the land of many Alentejo people who went there to work there for several decades and who never renounced their traditions. With pride, they continue to sing the Alentejo wherever they are.
In this case, my cousin Jaime's birthday happened on a day when the cultural association was organizing a festival of… Cante Alentejano with several traditional groups.
I spent the day celebrating the first birthday of my cousins' son while taking short breaks to chat with the singers and exchange moments of conversation with them, while always drinking a glass of wine … Alentejo, of course!
I also had a remarkable moment with my cousins, which was watching the Cante ao Menino, in the historic village of Monsaraz, on the eve of Christmas.
Monsaraz's atmosphere is magical and has always been one of my favorite places. Attending a religious Christmas celebration singing Cante Alentejano is something different and that highlights the versatility and the topicality of this cultural heritage.
The most singular experience of all was lived with my friends Paulo, Henrique, Cau and an old man known to Paulo, on my friend's birthday, in the beautiful place of Minas de S. Domingos.
Paulo had invited us to come and spend his birthday at the family hostel and restaurant.
As expected, dinner was well-stocked and washed down with good Alentejo wine.
Before we finished the night, we sat outside, with the red "abaladiça" vase, to drink before we were crushed for each of the rooms. In a totally spontaneous way and without anyone agreeing, the old man started to sing an Alentejo song, in a very soft, felt way and, it seemed to me, also very lucid! Without premeditation, Paulo, Henrique and Cau started to accompany the song, in all their vocal technique, alternating between the vocal solos, in an interpretation that seemed rehearsed among people who had been singing for a long time together.
It is incredible how the greatest beauty of things manifests itself in the most unexpected, simple and sincere moments. When we share pure feelings and listen to ourselves or when we give and share with others without expecting anything in return, without taboos or shame.
As the great message of the film "Into the Wild" refers… happiness is only real, when shared!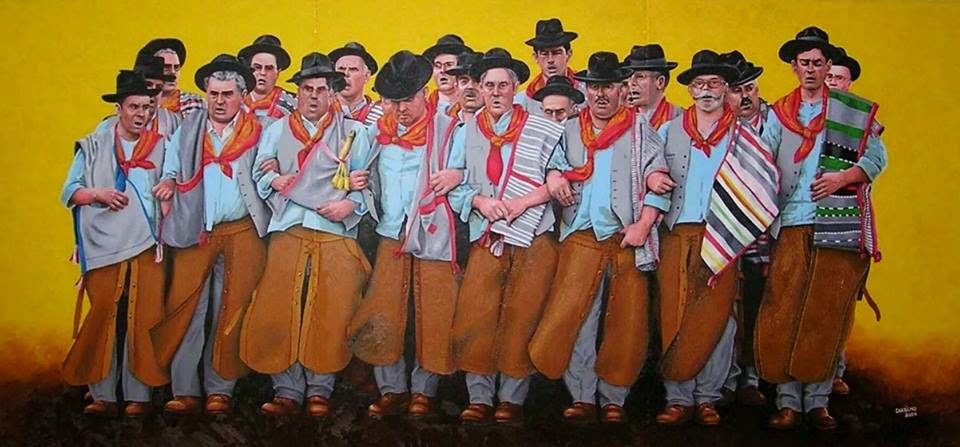 The Experiences With Cante Alentejano That I Had With The Visitors Of Évora Cultural Experience
Today, April 24, 2021, the company I created with Diogo celebrates 6 years of activity.
I am privileged to have the opportunity to create, disseminate and offer cultural experiences to people from all over the world who are interested in and value this type of authenticity and uniqueness in the heritage and culture of each region. This position also brings me a great responsibility to never defraud the expectations of those who trust me.
Experiences with Cante Alentejano are among the most popular. My concern is always to dignify the heritage and ensure that this experience is always lived in an authentic and as real as possible, respecting the traditions, the environment and all the people who intervene in this experience.
All Cante Alentejano groups are chosen by me and Diogo, for their interpretative quality but, mainly, for their genuineness and tradition. They are amateur groups, of friends who get together after a day at work, to share the common taste for Cante Alentejano.
Most of the experiences with Cante Alentejano have been created for the animation of groups of visitors during lunches or dinners or at teambuilding events, promoted by us, in Alentejo. The presence of Cante Alentejano in the business events we organize has been a great asset for the quality of these events. In addition to promoting this world heritage, the songs contribute to moments of great participation, satisfaction and humor. They end, almost always, with the participants singing hugging and smiling, while toasting and sharing the Alentejo wines that we always propose and make available.
Of these events, I highlight the time when we invited a group from Cante Alentejano, integrating them in a treasure hunt in the city of Évora.
Groups of foreign visitors had to guess the meaning of some words sung in Portuguese to access the next level of play.
This event had been created for the multinational OLX, which had chosen my company to organize a world event, for 120 participants from the four corners of the world who were in Évora. This event only reinforced the charm of Alentejo culture, which honored and made us very proud.
Cante Alentejano was also present at the celebration of the 25th anniversary of our Australian clients Sheryl and John, who choose Alentejo to celebrate their Love.
We were entrusted with the organization of 3 full days of "surprise" events without suspecting any schedule program.
One of those moments consisted of taking them to a beautiful natural setting, at sunset, with a breathtaking view over the Alentejo plains.
After taking them to that place, I left them alone to drink Alentejo sparkling wine with the accompaniment of some regional snacks. What they did not expect is that, suddenly, they would start to hear, in the distance, a group of men singing, as they walked towards him. I was hidden to film their reaction, while the group approached and sang an unforgettable serenade.
The best was when they sang "You are my best friend" by Queen in Cante Alentejano version! I had the information that it was the favorite song of my guests and the most significant song of their life together.
Although the songs sung in English are not accepted at all in the Alentejo Song and distort the heritage and tradition, I dared to propose this challenge to the Alentejo Song group.
Initially, they were not very willing to do so, but after much insistence on my part, they ended up accepting the challenge.
In the end, the group sang to John and Sheryl a surprising version of this song, which left them very emotional. Even today, they appreciate that moment in the mails that we still exchange.
In the end, what matters is Love, as the Beatles immortalize in… "All we need is Love… Love is all we need".
Ricardo Mendonça